The
MATRIX
Electronic Key Management Systems
MATRIX Electronic Key Management Systems
Electronic cabinet, key management system
The MATRIX Electronic Key Cabinet management system represents a premium, top-tier solution tailored for businesses and organizations that prioritize stringent security and efficient management of their keys and assets. This system offers a sophisticated yet cost-effective approach to controlling and monitoring access to critical keys and assets.
Electronic Locker Mobile Phone Management Systems
The MATRIX Phone Locker is an innovative self-management solution designed to securely store cell phones. With its cutting-edge features, this locker offers a large touch screen interface that ensures simple operation and efficient handling. Each individual cell phone is securely stored in a separate, locked compartment within the locker.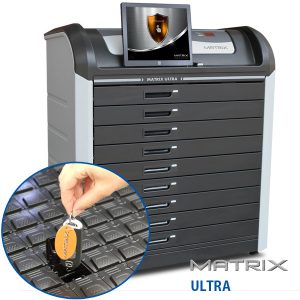 The largest capacity of Electronic Key Management systems
The MATRIX allows you to secure and control up to 1,782 keys in a single Electronic Key Cabinet unit instead of chained units that takes valuable wall space.
The MATRIX secured each key in a separate locked compartment, preventing access to other keys in the cabinet
MATRIX - Premium electronic cabinet,
key management systems
The MATRIX Electronic cabinet Key Management Systems offers a cutting-edge solution, providing a flexible configuration with secured modular compartments for efficient and intelligent management and control of keys and assets.
Key Highlights:
Customizable Configurations: The system offers flexible configurations with modular compartments, allowing tailored setups to suit specific needs. This customization enables the accommodation of different compartment sizes and extension units, allowing for increased storage capacity as required.
Precise User Access Control: MATRIX grants full control over keys and assets, ensuring access is restricted according to user authorization requirements set by administrators. This precise control ensures that access is limited to authorized personnel only.
Scalable System: Adaptable to various needs, the electronic key system can be scaled up by adding extension units and adjusting compartment sizes, making it ideal for managing a substantial number of keys and assets.
Premium Security Measures: The MATRIX system prioritizes security, providing an advanced level of protection for keys. It ensures a unique combination of key control and advanced security measures for added peace of mind.
Industry Versatility: Suitable for diverse industries such as automotive dealerships, property management, facilities management, law enforcement agencies, and other organizations that require enhanced control over their keys and assets.
Advanced Key Management Software: The system comes equipped with the most advanced full audit trail reports, offering comprehensive monitoring capabilities. Additionally, it stands out as the only system offering a video recording audit trail for each transaction, enabling quick record checks in case of disputes. This feature is also accessible remotely, providing added convenience and accessibility.
The MATRIX electronic key management system is a top-tier solution, combining a high level of security, flexibility, and advanced features to provide an exceptional key and asset management solution. Whether it's for controlling access in automotive, property, or law enforcement sectors, this system offers a comprehensive and adaptable solution for managing and securing keys and assets.
Contact us today for your best solution of key electronic management solutions.
The MATRIX Electronic Key Cabinet management system, specifically offered in Australia, represents an advanced and cost-effective solution tailored for businesses and organizations that require complete control and adaptability over their keys and assets.
Key Highlights:
Premium and Cost-Effective Solution: The MATRIX system stands out as a high-quality yet cost-effective option for managing keys and assets, offering superior features at a reasonable price point.
Flexible Configurations: The system's design allows for flexible configurations, featuring secured modular compartments. These compartments offer a smart and efficient method to manage and control keys and assets according to specific organizational needs.
Efficient Key and Asset Management: With an emphasis on efficiency, the MATRIX system streamlines the management of keys and assets, ensuring a smoother and more organized process.
Enhanced Security Measures: The system prioritizes security by providing a secure environment for key storage, ensuring that only authorized personnel can access designated compartments.
Tailored Solutions in Australia: Specifically tailored for the Australian market, the MATRIX system takes into account the unique needs and requirements of businesses and organizations within the region.
Comprehensive Control and Adaptability: This electronic key cabinet management system offers complete control and adaptability, allowing for specific configurations that match the distinct demands of different industries and organizations in Australia.
Overall, the MATRIX Electronic Key Cabinet management system in Australia presents a top-tier solution for businesses and organizations seeking a combination of cost-effectiveness, adaptability, and heightened security in managing their keys and assets. Its flexibility and efficient design make it an ideal choice for various industries operating in Australia.